Yaakov was educated in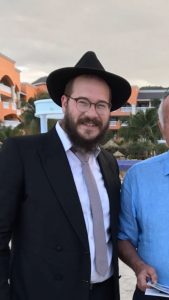 Montreal, and then at an exclusive rabbinical French high school.  From France, he moved to Brooklyn where he received his Rabbinical ordination from the dean of central Lubavitch Yeshiva  in Crown Heights as well he received ordination from the chief rabbis in Israel Rabbi David Lau & Rabbi Yitzchak Yoseph..
As a young rabbinical student, Yaakov combined his leadership capabilities, friendly personality, and strong Jewish beliefs, to dedicate his life towards the dissemination of Judaism. He traveled the world visiting different Jewish communities and organizing Jewish outreach missions in France, Monaco, Germany, England, Caribbean Islands, Central Africa, Luxemburg, Spain, and Morocco. He initiated and directed holiday services, kosher meals, home visits, and taught intellectual and stimulating adult and children classes.
In 2014, Rabbi Yaakov & his wife Mushkee made history! They opened up the first Chabad house in Jamaica along with a Welcome Center, servicing the spiritual and physical needs of the Jewish visitors to the Island as well as the local Jewish Community.  Now, they seek to permanently answer their true calling: To celebrate Judaism and the warmth of our great heritage together with the Jamaica community
and the many tourists, no matter ones previous background or affiliation..