World famous chef, Charlie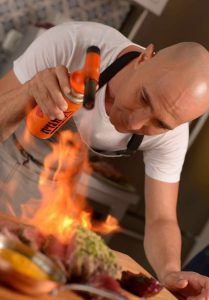 Fadida, hailing from a family of chefs, began his culinary career in 1993. After a long and successful career as the executive head chef at the Sheraton and Hilton Tel Aviv from 2002 to 2016 and a leader in SPG world chefs, Charlie took his talents to ISS Catering Israel where he is the chief Culinary Manager and an advisor for Restaurants and Event's venues. Charlie is also the executive head chef of the famous Olive Leaf Restaurant in Tel Aviv.
In addition to his busy day job at his catering company and restaurant, Charlie is a competitor in international culinary competitions. His achievements and success have brought acclaim to himself and to the State of Israel. His first competition was at the age of twenty one which followed with events in Luxembourg, Malta, Cyprus, South Africa, Romania, Switzerland, Turkey, Germany, Greece, Russia and more. Charlie's superior passion, drive and talent led him to win more then twelve gold medals and over sixty medals in total from various competitions and to be elected twice by the Israeli Chefs association to the incredible honor of serving as the captain of the Israeli culinary team in the world Olympics.
Charlie has cooked for Presidents of the US and world leaders and had the tremendous honor of cooking for the Gala Dinner honoring Jerusalem's 3000 year anniversary.
Charlie has appeared on various cooking shows, morning and evening shows in Israel always representing new trends in the culinary world. Charlie is currently in his third season of his television show "Champions in the kitchen" and his second season of "Charlie in the Fish Kingdom". In addition he is a highly sought after consultant for various leading Israeli food companies helping them develop new products and often represents many in their media campaigns.
Charlie talents are astounding. A celebrity chef par excellence it is a privilege for both us at Royal Passover and our Royal guests to have Charlie be our executive chef this Pesach.
Pazit Sapir has been living and breathing the culinary industry in Israel for the last 18 years.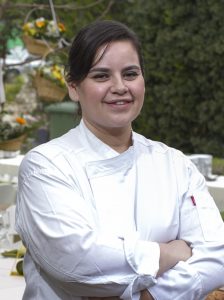 Pazit is currently the owner and Chef of the Kishria catering boutique in Giv'atayim . She first entered the culinary scene upon completion of her service in the IDF at the InterContinental Hotel Tel Aviv in 1999 where she discovered her passion for hospitality and catering. It was here that Pazit had a hand in creating the tradition that is the abundant and lavish Israeli hotel breakfast of today that Israel is most famous for. Pazit's drive and passion grew over the years and culminated in the launch of her own catering company which grew to tremendous success throughout the country. Pazit decided to further this success and in 2015 opened Kishria in Giv'atayim, a café and restaurant famous for its eighty six flavors of quiche and fifty two varieties of tarts amongst the usual array of sandwiches, crepes and dairy items. Pazit's products were so well received that she began to produce her products for the masses, selling them in food stalls, shopping malls, fairs and to a wide range of audiences. Together with this highly successful restaurant and food company, Pazit continues to offer catering service specializes in corporate and large scale events.
Pazit has the passion and the pride to make her highly sought after and the best of the best in her field, making her a very welcome and honored part of the Royal Team.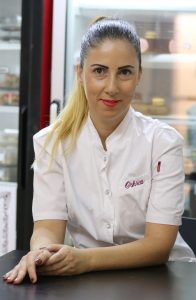 Gifted French Pastry Chef Oshrat Shitrit got her start at a young age when she lived with her family in Switzerland where her passion for pastry began to emerge. From there Oshrat studied for four years under five star chefs in France. Upon her return to Israel, Oshrit decided to pursue a career in the art of pastry and attended the famous "Bishulim" culinary school where she specialized in French pastries and creations. From there Oshrat expanded her repertoire and for the last five years has owned and operated the flourishing boutique "Flavor of Paris" in Gan Yavneh in Israel, selling a multitude of French delights. In addition to her highly successful boutique, Oshrat runs baking working shops and a dessert catering company for high end events. Oshrat will lead a team of talented pastry chefs to deliver to our Royal Guests only the finest in desserts, pastries and confections.